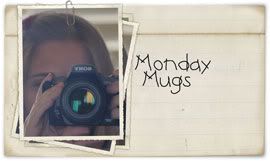 Are you in need of a mindless Monday Blog post? Are you struggling to deal with the weekend being over and can't muster the strength to type a single word? Well, Monday Mugs is for YOU! I may or may not "borrow" ideas from IheartFaces and post my interpretation of their weekly theme. Without submitting my photo for judgement and not being forced to follow the rules.
Mondays are hard! Blogging on Mondays shouldn't be!
Today's theme for Monday Mugs is: Cry Babies
Lily crying because I forced her to sit in the swing by this big scary witch. And then we didn't even get the witch in the picture!
Trying to get pictures with the kiddos for Valentine's Day 2005.
Ashton was not feelin' it!
Valentine's Day 2006. This year, Bailey is not in a photoshoot mood!
Daisy's feelings about trying her first ever bite of rice cereal.
If you are in need of a simple Monday post, JOIN ME! Grab my
button from the sidebar and link up your own post!
Next week's theme will be: Then and Now