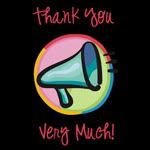 Courtesy of Kmama!
I seriously need some therapy this week! I am going to break the rules a little bit today because this Sunday
my
baby turns 2!
(that was for you Kmama!)
Since I have Daisy and her birthday on the brain, I can only think of one person to thank today!
Miss Daisy, Thank You Very Much for growing up way too fast! For making us enjoy you so much that we want you to stay just as you are now! I know we will enjoy you at every stage in your life, but could you just slow it down a little bit? Trying to keep up with your brothers and sister does not help in the "staying a baby" department, Thank You Very Much!
Just look how much you've grown since your 1st birthday!!
August 2009 - 1 year old
September
October
November
December - definitely not participating in the group shot!
January
February
March
April
May
June
July -
caught her reading a book on Ashton's bed
July -
helping herself to an ice cream sandwich