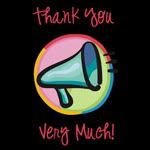 Courtesy of Kmama at The Daily Dribbles
To the rookies in the parent pick-up line at school, Thank You Very Much. I KNOW there was a flyer given to every parent at meet the teacher night that explained exactly how to pick up your kids. Did you read that? I didn't think so! Let me just fill you in on the most important detail: DO NOT park your car in the middle of the parent pick-up lanes and then GET OUT and go in to the school. You should know that when I see this happen, I will inform the front desk staff immediately and giggle when they announce your license plate # and car description over the loud speaker. Then I will roll down my car windows and laugh as loud as I can as I, and all the other rule followers, watch your 'walk of shame' back to your car!
To spelling word sentences, Thank You Very Much. I did not miss you over the summer! Man, I did not enjoy you when I was in school. And because I decided to put the boys in the same class this year, I now have to help come up with 2 completely different sentences for each spelling word!
To Ashton and Bailey, Thank You Very Much, for thinking it is ok to stay up until 10pm, playing in the dark ON.A.SCHOOL.NIGHT!! It can't be easy for you to make it through a full day of school if you're tired and I do not want to deal with your cranky pants the next day. Starting the night in separate rooms is going to become the new norm if you don't get your butts to sleep!
To the soccer ball, Thank You Very Much for smashing in to Lily's face, sending her glasses flying and leaving her with a purple bruise on her eyelid THE DAY BEFORE SCHOOL PICTURES!
Go see
Kmama
and get your free therapy TODAY!