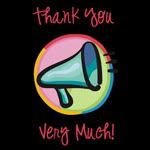 Courtesy of Kmama!
To the Walmart Vision Center, Thank You Very Much for FIRST telling me to "wait a little while" before coming in to look at glasses because the store was busy and SECOND, when we showed up, greeting us with a printed out and LAMINATED sign that read: We Are Closed Early Due to a Family Emergency!
All 3 of you had an emergency? Before closing time on a FRIDAY EVENING?!?!
Very Suspicious!!!
We took our business elsewhere, Thank You Very Much! *thumbs in ears, waving hands and sticking out tongue*
To Miss Daisy, Thank You Very Much for waking up, 3 nights in a row, when I sneak in to your room to make sure you are breathing before I go to bed! And then requiring me to rock you before putting you back in bed! You gotta stop reminding me how wonderful it is to rock my snuggly baby cuz before I know it you will be all grown up and too big or too embarrassed to have your Mama rock you! Don't even think about blaming me! It is a complete accident that I step on the squeaky board just outside your room and that the doorknob creaks a little too loudly when I walk in!
Visit
Kmama at The Daily Dribbles
for
your
free therapy!