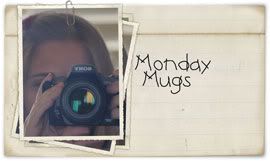 Are you in need of a mindless Monday Blog post? Are you struggling to deal with the weekend being over and can't muster the strength to type a single word? Well, Monday Mugs is for YOU! I may or may not "borrow" ideas from IheartFaces and post my interpretation of their weekly theme. Without submitting my photo for judgement and not being forced to follow the rules.
Mondays are hard! Blogging on Mondays shouldn't be!
Today's theme for Monday Mugs is: Pets
Everybody, meet Frank.
We're pretty sure this is Frank, who Lily got for her birthday about 2 years ago. We had other fish that did not survive our tank. Bailey named one Cinnamon Twist.
We would all like a dog but DaddyO and I can't agree on what kind to get. I have been working on a twelve month program, to harass DaddyO in to getting a cute LITTLE mutt and not a slobbery bulldog. We'll see how that goes!
If you are in need of a simple Monday post, JOIN ME! Grab my
button from the sidebar and link up your own post!
Next week's theme is: Blue