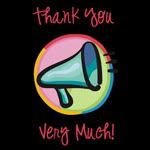 Courtesy of Kmama!
To the loaf of bread that we bought at the store last weekend, Thank You Very Much for covering yourself in white fuzz before we even had a chance to open your package! We may as well stand around and toss money in to the garbage can. You should not be going bad so soon after you were purchased!
To DaddyO and Lily, Thank You Very Much for wrestling and bouncing around on the bed while I am trying to type this post! Don't you guys know that blogging comes before bonding? I kid, I kid! Bounce Away!
To our Summer Monsoon, Thank You Very Much for not showing your face yet this summer! Where are you? We really need some rain and thunderstorms to break up all these sunny, HOT days! I will even take some dust storms as long as you provide a downpour afterwards!
Ok, go get you some free therapy from
Kmama
today, and make sure you stop by next Thursday when I get to host Thank You Very Much! I am so excited!