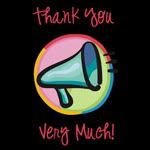 It's Free Therapy Day!
To the boys, Thank You Very Much for applying sunscreen to the AIR. That stuff aint cheap fellas. New rule: ONLY Mommy touches the sunscreen bottle! Mm-kay?
To Daisy, Thank You Very Much for throwing one of your wooden blocks at my head. You've got good aim, girl, and I think super-human strength. Yes, it left a mark!
To DaddyO, Thank You Very Much for eating the last piece of cheesecake that I had been waiting to eat ALL day! Please imagine my disappointment when I came downstairs, after getting every one else in bed, to sit in peace and enjoy my dessert only to find it mysteriously missing from the fridge!
To Wednesdays, Thank You Very Much for providing ALL the material I need for my Thursday Thank Yous!
And just to make sure I include every one in the family, Thank You Very Much to Lily for being the only one who did not warrant a sarcastic Thank You!
Visit
Kmama
for your free therapy!