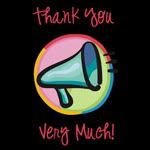 Free Therapy Courtesy of Kmama!
To the nasty bug that made my Daisy sick, Thank You Very Much! We are on Summer Break! There is NO getting sick during Summer Break! You better not even think about getting anyone else sick!!
To the super intelligent people waiting in line at the Aquatic Center! Why are you all standing in the middle of the parking lot? I need to drive out of here, Thank You Very Much! There is a perfectly acceptable AND shady sidewalk a few feet away from you. I promise you will all still make it inside even if you skooch over a little!
These silly geese did not disappoint this morning!
I placed Bailey by the back bumper of my car so they wouldn't think I was taking pictures of them. By the front end of my car is the sidewalk! If someone would just curve the line a little sooner they could all be standing in the shade and I wouldn't have to dodge them on my way out of the parking lot! I realized that the reason they are so hyper about their spot in line isn't because they are afraid they won't get in but because they are trying to make sure they get one of the good chairs, right by the pool! Oh, they make me laugh!
Now, go get you some free therapy from
Kmama
!