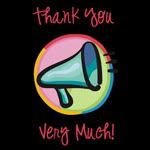 Courtesy of Kmama!
Hip hip hooray, it's free therapy day!
To the nasty bug, that I thanked last week for making Daisy sick, Thank You Very Much for making Ashton, Bailey AND me sick! I told you NOT to come near us! You've turned us in to a Chorus of Coughers that can repel people wherever we go! Go Away!
To PCOS, Thank You Very Much for not responding to medication and causing me to gain weight and break out like a teenager, among other fun symptoms! You had better respond to medication attempt #2 or I'll.................I don't know! GO CRAZY?
Alright everybody, go get some free therapy from
Kmama
.