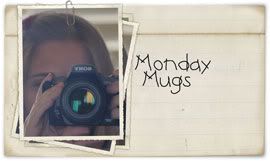 Are you in need of a mindless Monday Blog post? Are you struggling to deal with the weekend being over and can't muster the strength to type a single word? Well, Monday Mugs are for YOU! I may or may not "borrow" ideas from IheartFaces and post my interpretation of their weekly theme. Without submitting my photo for judgement and not being forced to follow the rules.
Mondays are hard! Blogging on Mondays shouldn't be!
Today's theme for Monday Mugs is: Play
I wasn't exactly sure which 'play' pictures I was going to use. I have plenty! So, I just grabbed one of my scrapbook albums to see what inspired me! I had more than enough 'play' pictures to choose from! Except for Daisy's, all of these pictures were taken in 2006.
We bought something that came in a really big box. The kids took the pieces of box and placed them on the stairs. Two kids would stay at the top to hold on to the slide while the other kiddo did some serious slidin'!
One of the kids' favorite places to play is in our backyard!
Playin' in the sandbox. In January!!
Searching for and catching lady bugs in the grass.
Drivin' around in the pink jeep.
Playin' with the moon.
Daisy has also learned to love the backyard. Whenever she sees that someone is going to open the sliding door she runs over to make sure she can make it out the door before it closes!
If you are in need of a simple Monday post, JOIN ME! Grab my
button from the sidebar and link up your own post!
Next week's theme is: All About Babies
Have a great week everyone!